IN MEMORY OF THE 10TH ANNIVERSARY (May 7, 1999-2009)
OF
DR. RICHARD J. BEAUCHESNE'S FIRING
BY
EISNER,
PRESIDENT OF EMMANUEL COLLEGE, BOSTON, MA.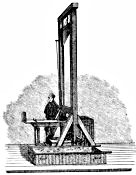 Eisner, Emmanuel College President, unceremoniously decapitates the messenger of bad news rather than judiciously heeding the message. (See #2. below.)
1. Chronology of the Firing Process used against Dr. Beauchesne by Emmanuel College in the persons of Sr. Patricia Johnson, ND de N, Academic Dean, and Sr. Janet Eisner, ND de N, President: Click here.
2. The letter that Dr. Beauchesne sent to the Promotion and Tenure (P & T) Committee members, May 6, 1999, which led to his firing from Emmanuel College: the fatal letter. Click here.
3. The 'firing verdict' morphed by Janet Eisner into a "voluntary retirement" document, which Dr. Beauchesne 'involuntarily' signed on 5/11/99, is missing from his files.
N.B. If you have a copy of the above 5/11/99 document, please, read it in light (1) the 'Claim of Discrimination against Emmanuel College' below, and (2), the 'Out of Court Agreement' below (signed on 9/9/99), which supersedes the missing 5/11/99 document.
4. In the name of Emmanuel President Eisner, the Emmanuel Academic Dean's (Pat Johnson), please find here the brief announcement to the Emmanuel Faculty of Dr. Beauchesne so-called "voluntary retirement". Click here.
5. Dr. Beauchesne hired Att.Warren Pyle (from the Boston Law Firm Pyle, Rome & Lichten, P.C. ) who represented Dr. Beauchesne in his claim against Emmanuel College. Here is Att. Pyles's letter to the Emmanuel Lawyer Mandel. Click here.
6. Dr. Beauchesne's fax to Eisner requesting a copy of the 'firing decree' she read him in her office (with Pat Johnson present) on May 7, 1999. The fax requested a copy of:
(a) the accusatory P&T letter (which the then P&T did not have the courtesy to cc. to Dr. Beauchesne prior to his May 7 meeting with Eisner, nor did the then P&T forward Dr. Beauchesne a copy of Said letter (after the May 7 meeting);
(b) other Eisner accusations against Dr. Beauchesne; and
(c) a substantiation (by references to the Faculty Handbook) of the allegations against Dr. Beauchesne. In the fax, he indicated to Eisner that non compliance with said requests will mean legal action against her and the College. Click here.
(P.S. Eisner did not respond to Dr. Beauchesne's fax. As you will find out below, she did not have to.)
7. Find here Att. Pyle's communiqué to Eisner requesting Dr. Beauchesne's complete Emmanuel file, including the yellow pad's hand written scribbled notes from which, on May 7, 1999, Eisner read Dr. Beauchesne's firing sentence. Click here.
8. Eisner, through her lawyer Mandel, lets Att. Pyle know that the files of a tenured professor "voluntarily retired" are not available to the Said retiree. Att. Pyle, after verifying the claim with a peer lawyer, informs Dr. Beauchesne that his Emmanuel files are no longer available to him -- which explains why Eisner did not respond to Dr. Beauchesne's request for his Emmanuel files and for the above mentioned 'yellow pad's scribbled notes' BEFORE the "voluntary retirement" process was completed. Click here.
9. Discrimination Claim vs. Emmanuel College: Notorization: Click here.
10. The PYLE-BEAUCHESNE "STATEMENT OF CLAIM AGAINST EMMANUEL." Click here.
11. Out-of-court settlement between Emmanuel College and Dr. Beauchesne.
a. First, Eisner, Emmanuel College President claiming she never fired Dr. Beauchesne, thus perjuring herself. (Dr. Beauchesne's letter to Att. Mandel, Eisner's lawyer, related to the latter's perjurious statement contained in a previous draft of the agreement.) Click here.
b. Then, the BEAUCHESNE-EMMANUEL LEGAL AGREEMENT. Click here. (This document has 7 pages. To read the entire document, please, keep scrolling down.)
(P.S. Note that Eisner's perjurious statement has been purged by her lawyer, Mandel, from the final legal agreement (cf. # 11 b. above). Also note that Eisner obviously preferred an 'out of court settlement' rather than Dr. Beauchesne's 'having recourse' to the MCAD (Massachusetts Commission Against Discrimination).
«»
ΑΠΟΘΕΟΣΙΣ
(APOTHEOSIS)
«»